Michael J. Bobbitt Bio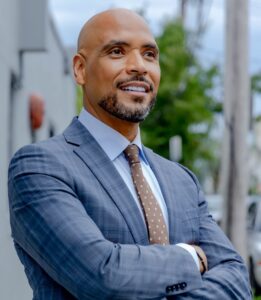 Michael J. Bobbitt, Executive Director, Mass Cultural Council
Michael J. Bobbitt is a theater director, choreographer, and playwright who has dedicated his professional career to arts leadership. He joined Mass Cultural Council as Executive Director in February 2021, and is the highest-ranking cultural official in Massachusetts state government. Upon joining the Agency, he was invited to serve on the Board of Directors for the New England Foundation for the Arts (NEFA) and the National Assembly of State Arts Agencies' (NASAA). As Executive Director Michael has led Mass Cultural Council through the development of its first-ever Racial Equity Plan; worked with staff, Council Members, and cultural sector advocates to secure and distribute a historic $60.1M in state pandemic relief funding; and overseen the drafting and adoption of the Agency's FY24-FY26 strategic plan.
He previously served as Artistic Director of the New Repertory Theatre in Watertown, MA; immediately prior he held the same position at the Adventure Theatre-MTC in Maryland for twelve years. While in Maryland Michael led the organization to be a respected regional theatre training company, and a nationally influential professional Theatre for Young Audiences.
Michael gained experience in arts management by training at Harvard Business School's Strategic Perspectives in Nonprofit Management, The National Arts Strategies Chief Executive Program, and Cornell University's Diversity and Inclusion Certification Program. In July 2022 he completed the Senior Executives in State and Local Government Program at the John F. Kennedy School of Government at Harvard University. He has served as an Associate Professor of Theatre at Boston Conservatory at Berklee and Howard University and volunteered on numerous nonprofit boards in Maryland and Massachusetts. In February 2023 Michael received the prestigious Kennedy Center Gold Medallion in recognition of his commitment to the arts and educational theatre and was appointed by Massachusetts Governor Maura Healey to serve on her Advisory Council on Black Empowerment. In April 2023 he was recognized by Get Konnected! as one of Boston's Most Influential Men of Color and invested into the College of Fellows of the American Theatre – one of the highest honors bestowed on American theater professionals. He is also the recipient of MassOpera's Action Bearing Award and was recognized by Speak Out for his efforts to build a more inclusive cultural sector.
Michael has directed/choreographed at Arena Stage, Ford's Theatre, The Shakespeare Theatre Company, Olney Theatre Center, Studio Theatre, Woolly Mammoth Theatre, Center Stage, Roundhouse Theatre, The Kennedy Center, and the Washington National Opera. His national and international credits include the NY Musical Theatre Festival, Mel Tillis 2001, La Jolla Playhouse, Children's Theatre of Charlotte, Jefferson Performing Arts Center, and the Olympics. As a writer his work was chosen for the NYC International Fringe Festival and The New York and Musical Theatre Festival. He has plays published by Concord Theatricals/Rodgers and Hammerstein Theatricals, and Plays for Young Audiences. Michael has received the Excel Leadership Award (Center for Nonprofit Advancement), the Emerging Leader Award (County Executive's Excellence in the Arts and Humanities), and Person of the Year Award (Maryland Theatre Guide).
Photo: Johnny/BTS Design Studio.