Festivals Toolkit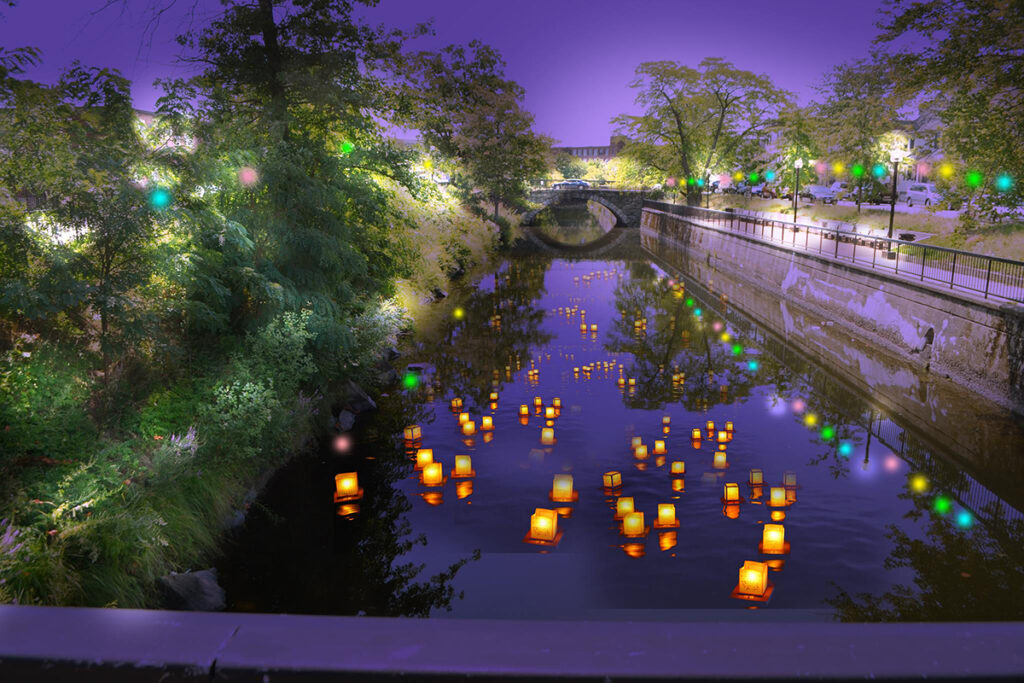 Examples
Demographic Analysis
Sample demographic analysis provided by Clarity Campaign Labs. (PDF)
Identify Your Audiences
EXAMPLE A
What is your mission statement?
FESTIVAL A is an annual, one-night festival celebrating community through creativity in downtown TOWN. Designed to appeal to audiences of all ages, FESTIVAL A features local art, music, dance, film, performances, food, and fun family activities.
Based on your mission statement, discuss with your colleagues what your ideal audience looks like. Brainstorm a at least 10 phrases that describe your ideal audience(s). Our ideal audience is:
excited about multimedia, contemporary, and interactive art work.
eager to discover something new.
interested in supporting local artists and artisans.
loves partner dance, exploring outdoor activities, going out for good food, and listening to live music.
invested in supporting local businesses and local creatives.
from the COUNTY NAME and surrounding areas.
compositionally diverse—multigenerational, from varying socio-economic backgrounds, representative of the racial and ethnic diversity of COUNTY NAME, inclusive of the gender spectrum, and representing a wide range of physical ability and neurodiversity.
In order to describe your ideal audience with specificity, you will want to create smaller subgroups (segmentation). Describe up to three of these groups, using the prompts above.
Audience Group 1: Individuals and families who live and/or work in TOWN. They are familiar with the businesses in TOWN and the benefits of local community. They are invested in keeping TOWN vibrant.
Audience Group 2: Individuals and families who live outside of TOWN and may not be familiar with the area but are interested in the arts and have disposable income.
Audience Group 3: Racially and ethnically diverse individuals and families who are working class or currently living below the poverty line and do not generally have access to free or affordable arts and culture programming.
Draft an audience development goal.
FESTIVAL A would like to increase the number of compositionally diverse audience members—in terms of race/ethnicity, income, and geography.
Consider your data collection needs.
What information do you need to determine whether you have achieved your goal?
Demographic data—neighborhood, income level, age
Email address for further research, outreach, and engagement
A clearer estimate of attendees from last year
Better methods to track attendance in the coming year
Are you currently able to collect this information? If so, describe the method.
We are not currently able to provide this information.
What changes do you need to make to collect this information? What questions do you have about how to collect this information?
We will create an event "passport" for attendees to collect stickers at specific venues, and both an online and onsite survey that serve as the entry ticket for a raffle. These will help us to gather zip codes, neighborhoods, email addresses, and information about festival visibility. We will utilize raffle promotion to solicit survey participation and/or Facebook event RSVPs via our website, social media, and onsite at the event.
We are unsure about whether or not we need to request demographic data directly. We also need guidance on how best to structure survey questions and length in order to achieve high response and completion rates.
Revise your audience development goal to share with the other festivals today.
COUNTY NAME is predominantly white (84% of the population) and predominantly middle class (a $65,000 median income). FESTIVAL A would like to exceed the diversity of COUNTY'S demographic makeup (per census data), with a particular focus on socio-economic status and race/ethnicity.
In order to meet this goal, we will also pursue geographic diversity of audience members—both within the County and in neighboring regions (COUNTY, northern Connecticut, etc.)
Our aspiration is for marketing tactics that not only help us to meet goals for economic, geographic, and racial/ethnic diversity but that set an overall message of inclusiveness.
Is this goal realistic? How likely is it that you can accomplish this goal? How should it be revised so it is realistic?
We feel this goal is realistic with the guidance of Audience Lab. It's also something we can integrate into the event by including a participatory map where attendees can put a "pin" on the town/county they are visiting from. It could also be tied into to a placemaking project currently underway in Florence.
EXAMPLE B
Audience development goals for FESTIVAL B
To increase the attendance numbers at the FESTIVAL B by engaging families that live and/or work in TOWN and the METRO REGION.
How do we achieve this goal?
By facilitating creative opportunities for families to interact with the arts and artists exhibiting at the event.
How will we measure the change?
Stickers representing birds found in the region will be handed out to the attendees who will then be encouraged to pin them on a board with a tree printed on it. Each of the branches of the tree will denote a town in the METRO REGION. This will not only track total attendance but also possibly give us a break up of the neighborhoods from where people are coming into TOWN to attend FESTIVAL B.
Challenges
Reaching out to and engaging an increasingly diverse audience in the METRO REGION.
Engaging downtown TOWN businesses to get them to participate in FESTIVAL B.
Data Collection
In-person collection
This example from the Mass Voter Table is used during in-person events to collect contact information and answers to a few short questions. It is postcard size, so it is large enough to ask for key information (name, contact information, relevant interests), but short enough to ensure that the questionnaire is not too lengthy and more likely for visitors to complete.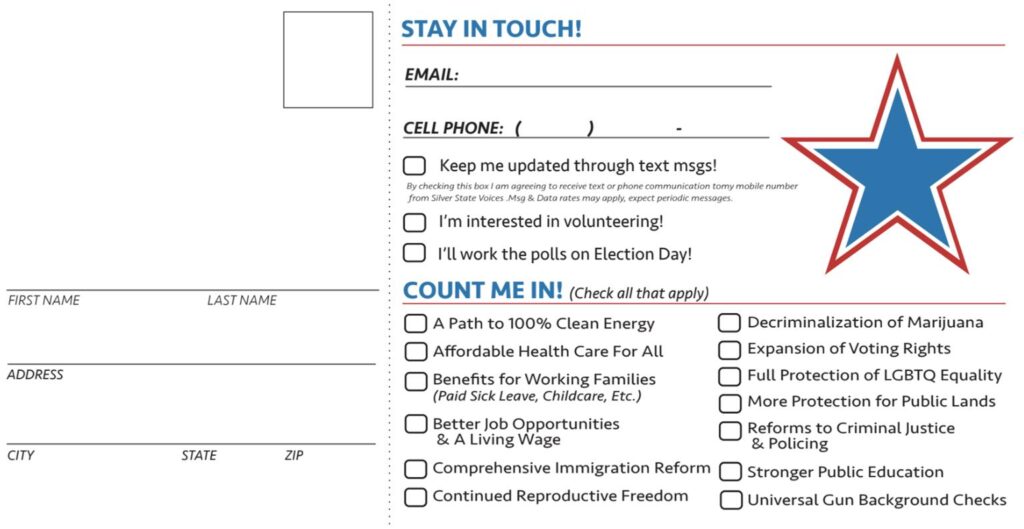 Demographics Questions
This example from a performing arts organization is taken from the first part of their post-event audience survey. It provides sample language for asking common demographics questions (age, race/ethnicity, gender, disability).
ORGANIZATION NAME offers diverse programming from all over the world in order to increase the diversity of audiences in the Greater Boston region. Participation in this survey will help us gain a better sense of where we stand and how we can improve these efforts. All questions in this survey are optional, you may answer several, one, or none. Thank you!
Which category below includes your age?
Under 18
18-24
25-34
35-44
45-54
55-64
65+
Which categories best describe you? Select all that apply to you
American Indian or Alaska Native- For example, Navajo Nation, Mayan, Aztec, etc…
Asian- For example, Chinese, Vietnamese, Filipino, Cambodian, Korean, Japanese, Asian Indian
Black or African American – For example, Jamaican, Haitian, Nigerian, Cape Verdean, Trinidadian, Tobagonian, Somalian
Hispanic, Latinx or Spanish Origin- For example, Mexican or Mexican American, Puerto Rican, Guatemalan, Salvadoran, Cuban, Dominican, Columbian
Middle Eastern or North African- For example, Lebanese, Iranian, Egyptian Syrian, Moroccan, Algerian
Native Hawaiian or Other Pacific Islander- For example, Native Hawaiian, Samoan, Chamorro, Tongan
White- For example, German, Irish, English, French, Italian, Polish
I prefer not to answer
Some other race, ethnicity, or origin, please specify
How do you identify your gender?
Male
Female
Please fill in an additional gender option: ____________________
Do you identify on a transgender spectrum? (For example, transgender, non-binary, genderqueer,
MTF, FTM, two-spirit, etc…)
Yes
No
If yes, please specify:______________________
Do you identify as having a disability? (including physical, developmental, or learning disabilities; sensory impairment, mental illness, or other)
Is there anything else you would like to share with us?
______________________
Sample EventBrite Page
ArtsBoston has set up a sample EventBrite event page and ticket form to show how to create one for free events. If you are planning to send your data to a third party for analysis (like the demographic analysis example), the ticket form shows the information necessary to collect in order to do this type of analysis. The screenshots below show the main event page and the ticket form. Please visit the event page for more details.
Cancellation Communications
Here are three examples of how festivals communicated the cancellations of their event in 2020 when the impact of COVID-19 shut down public gatherings. Use these are reference if you are required to make a significant and sudden shift and need to provide updates to attendees, sponsors, and other stakeholders.
General communication and additional communication to event sponsors
Dear Friends and Community Members,
In light of the developing COVID-19 Pandemic and the CDC's recommendation that events with 50 or more people be postponed until at least mid-May, the FESTIVAL NAME on DATE, will be cancelled. We did not make this decision lightly, but as the crisis worsened, it became clear it is necessary to protect the community.
We will soon announce the 2021 date for FESTIVAL, and we hope all our great vendors, performers, and volunteers will be able to make it. With that said, we feel our community needs FESTIVAL'S message of family, unity in diversity, community, renewal, and light more than ever. This is why we're working on some fun things for 2020.
This April: Take-Home FESTIVAL
We're working with our partners to create a home FESTIVAL decoration activity that can be done with everyday materials or FESTIVAL kits we will distribute to interested groups. Anyone who wants to participate—from 8 months to 108 years—can memorialize or decorate their own lantern at home and take a photo of it. These photos will be shared via social media, potentially in a slideshow video. Everyone's wishes, memories, and creativity will come together virtually. We will share this activity on social media and through community organizations in the coming weeks.
This Fall: Mini FESTIVAL
After it is safe to meet with neighbors and community members again, we'll be ready to have a festival! We are planning a smaller event for early fall 2020. We will be able to schedule this event as soon as state and federal officials tell us that it is safe to gather again. It will be a small celebration of being able to meet once more. We will provide updates about this plan through social media as we have them.
Thank you.
Thanks for being a community partner, vendor, sponsor, donor, attendee, or well-wisher. We want to make sure we can keep working with you through this crisis and into the years beyond. Whether it has impacted you and your family's health, business, or just your mental state, it's a difficult time for us all. Thanks for working together to keep our community safe.
-FESTIVAL Committee
Hi NAME,
As you may have guessed, the COVID-19 crisis is preventing us from moving forward with FESTIVAL this April. As you really helped us with early and enthusiastic support, we want to reach out to you with what we're thinking.
I've attached a PDF letter with a full description, but in a nutshell, we're considering a "take-home" activity for April, a very small event to celebrate being able to come together again when it's safe to do so, then coming back full force next spring. We're now ensuring our vendors will be able to hold our deposit until next year.
We wanted to reach out to ask what you thought of our plans and how we can work together to support one another through this Pandemic. Please let us know how you'd like us to proceed with your sponsorship, promotion, and the logistical planning around the docks and permission.
Last, but certainly not least–we hope you and your family are doing well during this time of uncertainty.
Warm regards,
NAME
Communication to event sponsors
Dear NAME,
I wanted to check in and thank you again for supporting FESTIVAL and to share an update. We have been watching the Covid-19 news and projections for spring and, in order to protect the community we serve, we will not be hosting this year's FESTIVAL on DATE.
We have already made significant progress in booking artists and performers, in planning logistical efforts, and have already received financial support from folks like you. So, we are putting all of that preparation "on the shelf" until we begin work toward a joyful return on DATE IN 2021. Your support will still play an integral part in the village's life, particularly as we celebrate renewed opportunities to gather together.
Your sponsorship funds will be earmarked for FESTIVAL 2021 and in the meantime–knowing the incredible challenges you are facing in these unpredictable times–we aim to spend the spring highlighting the work of both our creative collaborators and our business partners.
Please let me know how your business is navigating the current climate and how we might highlight your reconfigured/ongoing services on our social media platforms.
Sending you all our best–personally and professionally.
Organization communication via website
COVID-19 Updates and Information
To Members of the ORGANIZATION Community:
In order to assist in addressing the current health crisis, ORGANIZATION is rescheduling performances, events, and screenings for the month of March, and is now addressing many events scheduled for April. We are working directly with the performers impacted by this crisis to hold as many of these events as possible during 2020.
During this temporary closure, we are working to update our website to reflect any changes to our schedule as quickly as possible. All tickets for events originally scheduled in March will automatically be transferred to a new date later in the year, once the reschedule date has been mutually agreed with the performer. Ticket holders will be notified by email of rescheduling dates as they are confirmed. If you have any questions, please contact us using the Feedback form found on our website. We will make regular updates available on our website at WEBSITE URL, and social media channels (@HANDLE on Facebook, Twitter and Instagram).
An organization like ORGANIZATION can only be sustained if patrons purchase tickets, make donations or become active ORGANIZATION members. Public support is always important – but particularly in uncertain times such as this. We appreciate your consideration in this extraordinary time and will keep you informed as we update our plans.