Creative Minds Out of School
Get Trained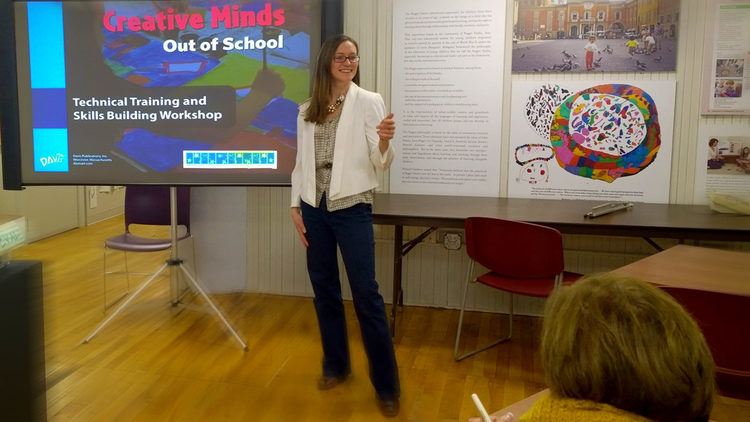 Mass Cultural Council and the Innovation Learning Center offer free training in the Creative Minds curriculum across Massachusetts. Throughout this hands-on professional development opportunity, participants learn to use the nationally distributed Creative Minds Out of School curriculum as a tool for teaching 21st century skills through Visual Arts Education.
"This training has helped me to not be so rigid with the directions and allow children to create their art as they please."
"I learned that art is a SERIOUS matter! I now embrace it as necessary component for proper and comprehensive child development."
"I learned good techniques for introducing famous works of art and having a discussion with my students about them."
"I feel a lot more comfortable making art and talking about art with my students – THANK YOU!"
"I loved the interactive parts where we practiced doing and talking about art so that we could be more comfortable in facilitation."
Schedule a Training
We bring the training to you!  Through our unique partnership, Massachusetts participants receive complimentary Educators Edition Books and Big Books when they attend this free hands-on workshop.  Start the conversation today and bring more art to more kids!  Free copies of the curriculum books are provided to your organization upon completion of a Creative Minds training.
Have questions?  Get Answers!
Write us a quick email and we'll get you back to enriching children's out of school time in no time.
On-Site Coaching & Support
Through on-site coaching, a Creative Minds Instructor comes to your site to support staff in running a Creative Minds lesson or planning a culminating event.  Coaches are also available to assess capacity for implementing a Visual Arts Education curriculum.  Show off your program, get tips and pointers, and have fun teaching art and connecting with colleagues!
Creative Minds Trainers and Coaches
Each of the trainers selected to work with the Innovation Learning Center, Inc. on Creative Minds has been strategically selected because of their extensive experience designing and delivering art-based afterschool and summer programming for elementary school age children. With a combined 75+ years in the field, we offer professional development, training, coaching and community resources to support curriculum implementation.